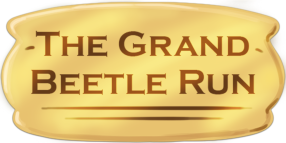 The Grand Beetle Run
Comments
Log in with itch.io to leave a comment.
Hey! I really liked the gameplay and how fluid/animated the 3D was made there. Managed to beat Challenge mode with 69 deaths xD. Also I've been trying to do a 3D game in LOVE lately, and found out through your project about Anim9 and .iqm models, but I can't simply get a model to animate, by reading your source I think that I need a shader for that, do you know about any tutorial that helps with this?
Thanks! The shader code for animations is inside shader.glsl in the shaders folder (It's also in shadow.glsl, which is the shader used for every thing so its a bit messy). It's been a while since I looked at the code but if you managed to get an iqm model loaded and know how to start an animation it should work if you just pass all the variables you see that are needed in the shader. Go to libs > g3d > model.lua to see how I do it.
Oh thanks for the reply! I think I managed to pass the variables but no success yet... Should I also update the camera shader or they are just for lights? Because there're no light sources in my project yet, since I'm going for a very retro vibe, and I saw that your camera is totally different from the g3d, idk if that may be the difference, since I'm using the default g3d one.
Gonna try some more times here, but thanks again, this has been pretty tough
[EDIT] nvm, managed to get it working!

ALTHOUGH I WAS RAGING A LIL I HAD MAD FUN PLAYIN THIS TBH
Hey there!

I wanna say that I love the fact that this game has separate keyboard and joystick modes, and that commands (like movement) aren't being forced on my controller, just because there's a controller option.

The keyboard defaults are horrible, but then again, this is the kind of game I would only play with a controller, so that horribleness doesn't actually matter.
This game is super-cruel. The beetle moves very fast, and there's not a lot of terrain to run on to catch your breath. A lot of times I'm failing, not because the beetle fell into water or a pit, but because of a bump in the path, which seems like kind of an undignified way to fail.
Overall, I like what's going on here. I wish some easier levels were tucked into this package, and I like the idea of paying for a longer (and possibly slower) version of this.
Thanks for the feedback
My last game got criticism for using the arrow keys so yeah..
Also shot in the dark here about the terrain comment: You can run over 1-block gaps without jumping by holding forward, a lot of people have been missing that. Bad game design on my part for not making it obvious, but it's the intended way to make it through those sections.
I was aware that holding Up would allow the beetle to get across small gaps. That feature was helpful! My ending score was 504. Someone else here said "~18min and 300 deaths later" so I think I'm not as young as I used to be. I should have paused more often to take a deep breath.

Also, I like the fact that I didn't need to navigate the menus with a mouse, and that WASD took care of that. I'm always relieved when that's true - it makes setting up a controller a very quick process.

At the end of each level, there's a checkered banner (which is okay) but then there's also no scenery - it's basically just sky. I guess I can imagine some reasons why that would be. Maybe each level is like a really long stick that the beetle is trying to escape from.
I played this game again. I was able to beat it in about 8 minutes, with 124 retries.
So, I have gotten better at it, and I feel good about that. For a game about one beetle, it's a mighty brutal 8 minutes!
Fun game! 🙂 Fantastic! ❤️
Interesante juego me gustó un par de minutitos les dejo el gameplay del primer nivel (que fue lo que aguanté XDD)
El juego te dice dos veces que puedes correr sobre espacios cortos cuando mantienes presionado el botón de arriba :P. Bueno, gracias por intentarlo.
First of all, I really like the name "The Grand Beetle Run" for some reason. It's a good name! Anyway, ~18min and 300 deaths later, I think I can say I had a good time with this. A couple pieces of feedback that I'd personally give:
The default keyboard controls are seriously rough imo, because everything is mapped to a single hand. Ideally it'd be better to have the movement and jump mapped to both hands (something like arrows+space for instance) would feel a lot more natural for a game like this imo.
I think a frame or two of jump forgiveness would also help a lot. Many of the jumps feel like they're spaced so you're required to jump at the very end of the platform, but I found a lot of my deaths came from slipping off before these jumps because I hit space just a moment too late.
As mentioned in another review, splitting the final level with a checkpoint and making it a little longer would definitely help.
Overallit's a really fun game though. I think for a month-long project this is rather nice.
Thanks for checking it out!
My last game used the arrow keys and that resulted in some confusion so I tried to avoid that this time around, it's a hard thing for me to find a good balance haha.
I think adding some forgiveness for jumping would improve the final level too, so maybe I'll do some testing with that sometime.
Neat little game! I do have a few points of feedback:
On the Lowest graphics quality setting (used due to an already mentioned bug) sometimes it's hard to make out where the edge of a platform begins due to a lack of shading
The final level could stand to use a checkpoint, maybe making the level a bit longer at the same time so both sections aren't too short
It would be nice if the game could store both gamepad and keyboard bindings in case one wants to switch between them
Otherwise I haven't got any complaints. Good work, and thank you for the wonderful game!